Oblique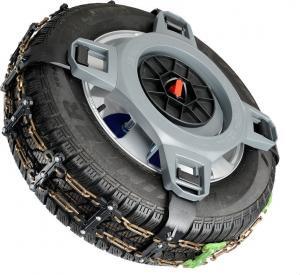 Snow Chains ragno Spikes Spider Sport
The SPIKES-SPIDER SPORT model is the most adaptable system for all cars. It combines NIROSTA – chromsteel chains, heavy duty plastic tracks fitted with studs within a closed chain system and can be quickly adjusted to fit larger and smaller tyres. As with all SPIKES-SPIDER models, fitting takes a matter of seconds not minutes and they fit the cars that conventional snow chains don't. The SPIKES-SPIDER SPORT therefore not only fulfils all requirements for snow chains world wide, but furthermore provides all superior advantages of the proven SPIKES-SPIDER technology, such as mounting within seconds, size adjustability and easy replacement of wear components.
Especially on ice covered roads, where conventional snow chains lose grip, the specially developed tungsten carbide studs maintain the performance of the SPIKES-SPIDER SPORT.
The chain net is made of NIROSTA steel chain segments which, combined with special tungsten carbide studs set in heavy duty synthetic tracks, significantly increases thepower transmission during braking or acceleration and therefore provides high traction.
Adjusting a SPIKES-SPIDER SPORT in size is a simple case of moving the chain hooks into the next hole on the track. Plus: all components of the SPIKES-SPIDER SPORT can be replaced easily as necessary.
Important: The Spikes-Spider Adapter is needed for mounting of the Spikes-Spider System and needs to be chosen separately.