Peruzzo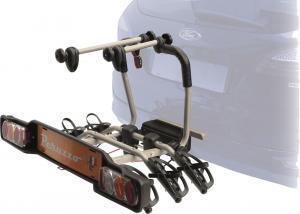 Bicycle Carriers Peruzzo
The motto of a company is often worth more than a thousand catalogs. This is the case for Peruzzo which, with its "Life in Motion" has been producing the best bike carriers,  roof or rear, for 25 years, and tow hooks for all enthusiasts who live their lives outdoors and in constant motion. Peruzzo has high quality (ISO 9001: 2000 certificate), design, adaptability to the various brands and models of vehicles on the market and competitive prices for all budgets.
Bicycle Carriers G3

After the success of its line of roof racks and roof boxes, G3 continues its evolution with a line of rear bike carriers, made in Italy. Combining quality and design, the Frame bike carrier fit 90% of vehicles in circulation and are a valid and economical alternative to Peruzzo and Thule products.
Bicycle Carriers Thule

To complete our offer, Thule bike carriers can't be missed. Thule is a market leader in high-end products. Guarantees of quality, sturdiness and ease of installation make Thule bike carriers the most sought-after products for those looking for the best solutions for their car.