Oblique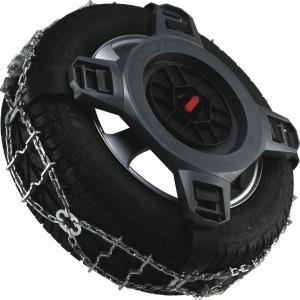 Click here to add your own text
Snow Chains Spikes Spider Alpine Pro
he new SPIKES-SPIDER ALPINE is the strongest of all our chains, designed for heavy vehicles. It uses the fundamentals of the tried and tested SPIKES-SPIDER design, including the famous SPIKES-SPIDER quick-fit system. As with all SPIKES-SPIDERS the ALPINE cannot damage alloy wheels or interfere with the vehicle's brake, ABS, steering or suspension systems.
The SPIKES-SPIDER ALPINE is the best choice for frequent drivers who want to arrive safely and on time even under extreme winter conditions.
A closed chain system with specially designed and hardened steel tracks supplies best performance and gives safety on ice and snow.
The new and worldwide patented adjusting element of the SPIKES-SPIDER ALPINE allows the chain to be easily lengthened or shortened by up to 19 cm.
Each of the two available SPIKES-SPIDER ALPINE sizes can therefore easily be fitted to more than 80 different tire sizes, which makes it possible to use the same snow chain on a number of different vehicles.
Important: The Spikes-Spider Adapter is needed for mounting of the Spikes-Spider System and needs to be chosen separately.